American Muslims across the country observed Veterans Day with the international 'Muslims for Remembrance' campaign, Wbay reported.
"We want to show from our perspective, the Muslim perspective, what it means to us," said Khurram Ahmad, public affairs secretary for the Masjid Qamar Oshkosh Mosque in Wisconsin.
"At the same time, do our little bit in that effort to remember those who have done great things for us."
The campaign was held to honor men and women served and currently serve the country.
The Masjid Qamar Oshkosh Mosque is one of the mosques that participated in the campaign. Outside its doors, a sign read in part, "Love for all, hatred for none."
"We plan to visit local VA hospitals, local VA centers, do whatever we can from that standpoint," said Ahmad.
Ahmed added that honoring the sacrifices of those who served goes beyond a day-long campaign. It is a tenant of faith.
"We firmly believe that nations who forget those who have laid their lives are lost themselves," he said.
He adds the 'Muslims for Remembrance' campaign is not about getting attention. Instead, it is about simply saying thank you.
"It remains to be an uphill task, so we don't want to create an extra special consideration from that standpoint. We think we are duty-bound, we are honor-bound, to do whatever we can."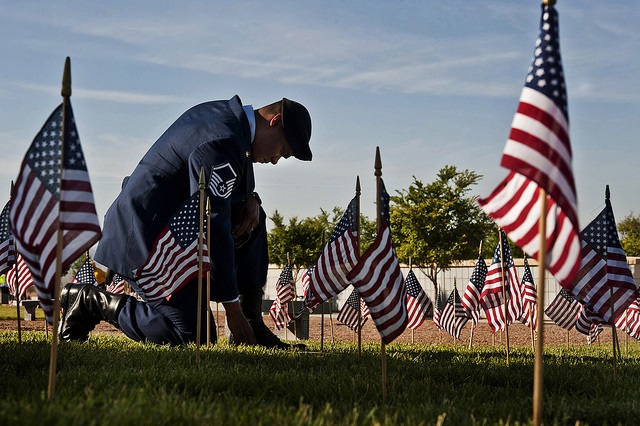 Muslims in the US Army
Service by Muslims in the United States military dates back to the American Revolutionary War where records indicate that at least a few Muslims fought on the rebel side. Muslims fought in the War of 1812 and the Civil War.
Muslims also fought and died in the Second World War, Vietnam, Korea, Afghanistan, and Iraq. There are so many Muslim vets that the Muslim American Veterans Association is opening its twelfth regional post this month.
Veterans Day is a federal holiday in the United States observed annually on November 11, for honoring military veterans, that is, persons who have served in the United States Armed Forces.
It coincides with other holidays including Armistice Day and Remembrance Day that mark the anniversary of the end of World War I.
Read Original Report Here By About Islam