Members of the Muslim community in St. Petersburg, Florida, gathered with Mayor Rick Kriseman on the footsteps of the City Hall on Tuesday to honor Muslims' holy month of Ramadan and celebrate diversity in the city.
"This event today means a lot…It's about time to see something like this," Khalid Ouanain, a Tampa Muslim resident, said about the Ramadan Proclamation Day, Patch.com reported.
"What makes America a great country is the people's heart to bring others together, to build the bridges. The point of today's gathering and today's event is to be an example of bringing people together. We may have our differences, but that doesn't mean we have to be enemies."
Ramadan is the 9th month of the Hijri Islamic calendar and is observed by Muslims worldwide as a month of fasting to commemorate the revelation of the Qur'an to Prophet Muhammad.
During Ramadan fasting from dawn until sunset, Muslims refrain from consuming food, drinking liquids, smoking, and engaging in sexual relations) the same phrase.
📚 Read Also:  New Muslims: How to Prepare for Ramadan?
Tuesday's event came as Mayor Kriseman prepares to departure as his time in his position comes to an end. He said he hopes the city keeps the tradition of marking the holy month with the Muslim community.
"This is my last opportunity I have to do this as mayor," Kriseman said as he stood behind the podium.
"So before I read this proclamation, there's just a couple of things that I want to share. One of the things that we've tried to do in this city, and as the time I've been in this position, is recognize the importance of diversity, tolerance, love, kindness and compassion. Of being one community where everyone is part of our vision statement…and that includes the Muslim community."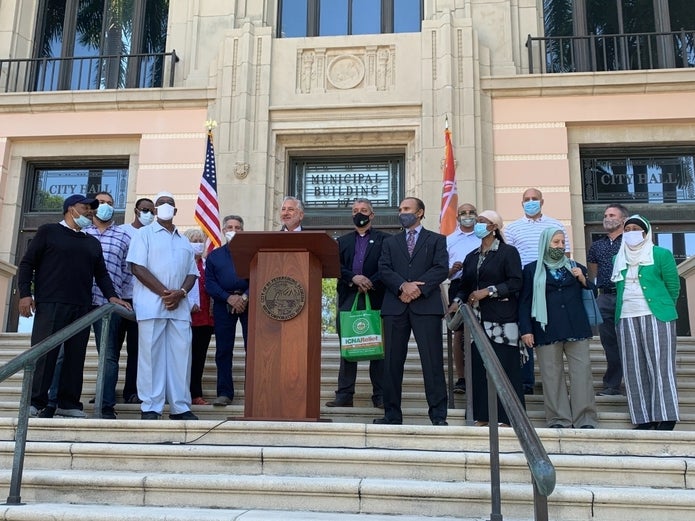 Tolerance
Saad Rahamouni, a leader with the Islamic Society of St. Petersburg, praised the efforts of Kriseman to celebrate diversity and promote tolerance in the city.
"To me, it's (Tuesday's event) a sign of how far we have come," Rahamouni said.
"One of the things that we have always talked about is this concept of tolerance. And I think we've moved way beyond that. We've come now to expect appreciation. I'm not talking about we as a Muslim community, but all communities.
"We should appreciate what we bring to the table, and what other communities bring to the table as opposed to just tolerate. Sometimes tolerance has a negative connotation because you tolerate things that are unpleasant sometimes."
Ramadan is expected to start from April 13 this year subject to moonsighting. 
During Ramadan, Muslims make special effort to find time for recitation and study of the Holy Quran, for supererogatory prayers, such as Taraweeh, and other charitable deeds.
Read Original Report Here By About Islam