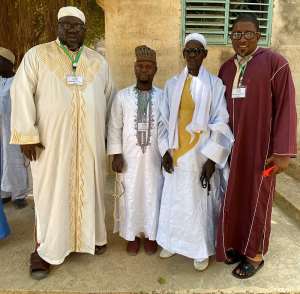 Group photo of participants at the training
Ten Muslim leaders from Ghana are currently undergoing advanced training in Human Rights promotion as part of the efforts to promote community wellbeing.
The training is an integral part of the annual religious leaders sharing seminar that started in 2015.
The 10 day training is funded by Carter Center of Atlanta in USA, an organization founded by former US President Jimmy Carter.
This year's seminar is been held at Tostan Training Cente in Thies Municipality, Senegal, from 9th – 20th December 2019.
So far 587 people from 49 countries across the globe have benefited from the training in 27 sessions from March 2015 to December 2019 with 106 Ghanaian Muslim leaders (women and men) participating.
Participants included; leaders of various Muslim civil society organisations, heads of nonprofit organisations, Tribal or Traditional heads, Imams, Muslim women leaders, Muslim youth leaders among others.
The theme for this year's seminar which is "Promoting Community Wellbeing" is to identify new frontiers & strategies in the Muslim communities focusing on religious or traditional leaders as agents of social change which according to Carter Center has been most appropriate in trying to tackle the current challenges faced by the Muslim community in West Africa.
So far participants have gone through various topics related to the seminar's theme such as the theories of well-being, capacity to aspire, gender roles, harmful social norms, collective problem solving, human rights instruments and alignment of human rights with religion just to mention but a few.
According to Laura M. Oslon, Director of Human Rights Programs at the Carter Center, the advance training was to equip participants with knowledge and skills to be able to work successfully within their respective communities using an integrated approach to promote community wellbeing.
Speaking on the sidelines of training, Sheikh Khuzaimah Osman Personal Assistant to the National Chief of Ghana said "this advance training sought to orient Muslim leaders in Ghana on leadership and institutional development among other aspects which according to him was one area affecting the progress of Muslims in Ghana.
The declining spirit of dawah (propagation of Islam), lack of awareness of human rights and entrepreneurship development, as well as inadequate Institutional and Organizational Development (systems, structures and skills) within Muslim organizations were amongst the key challenges that required immediate attention for the promotion of Community wellbeing among Muslims.
"This is partly why we engaged technical support organizations like Tostan and Carter Center, to enhance enterpreneural, leadership and managerial skills for our Muslim leaders," Sheikh Khuzaimah added.
Chief Alhaji Umar Baba Issah the spokesperson for the Council of Muslim Chiefs on his part urged participants to move from deliberations to action by collaborating purposefully with traditional leadership to achieve holistic community wellbeing.
According to the National Secretary of FOMWAG, the largest Muslim Women's organization in Ghana, Hajia Aishatu Abdul-Kadiri, it is very crucial for Women to partner their men in contributing to decision making processes at the family and all community levels.
The core values of the TOSTAN Training is to empower women and girls to be exposed to the various artlcles and the principles of human rights for development that are enshrined in the Quran and the Hadiths.
The Girl-Child by this tool should be encouraged to understand the opportunities and challenges within her environment, by which she can further explore to make meaningful and positive informed choices with regards to her education, career and marriage life.
She added, "The women on the other hand can make meaningful contributions at the family and community levels that will result in the greatest good and holistic well being for development".
Welcoming the participants last Tuesday, Mr. Birima Fall, of the Tostan Training center assured participants of the center's readiness for the training and also inspired them to work hard to serve as worthy goodwill ambassadors of their respective countries.
The seminar opened with a Senegalese colorful cultural dance and drumming by the staff of the center and trainers.
The training ends next Friday with a certificate awarding ceremony.
Source: Imam Abass/Thies Municipality, Senegal