Gold medal-winning rower Mohamed Sbihi made history on Friday as the first Muslim to carry the British flag at the Olympic Games opening ceremony.
"It was a huge honor, I've been on cloud nine for the last few days," Sbihi told Euro Sport.
"I still don't feel like I walked into the stadium last night. It was a very cool moment to share with Hannah (Mills) but ultimately, I'm sure Team GB won't mind me saying this, we're here to win medals, I'm not here to carry a flag."
📚 Read Also: Hijabi Referee Makes Olympic History
Born to a British mother and Moroccan father in Kingston in Surrey – the 33-year-old has gone on to have an illustrious and medal-laden career.
He won bronze at London 2012 before going on to claim Olympic gold at Rio 2016 in the coxless fours.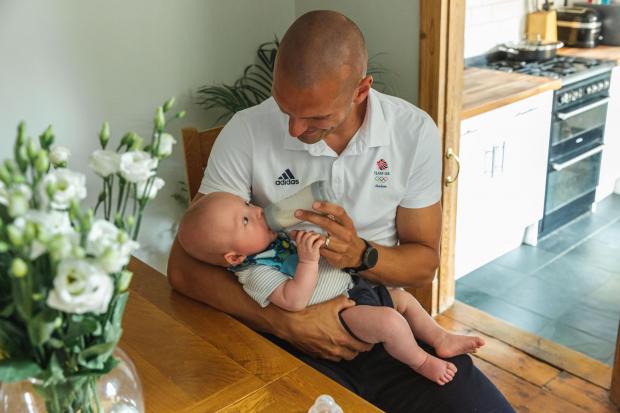 After the postponement of Tokyo 2020 Olympics, he considered leaving sport but the arrival of his son Idris seven months ago changed his perspective.
"Before Idris was born my biggest stress outside of rowing was cooking dinner. Now everything I do revolves around him, but knowing I am going back to that does make a hard day's rowing a lot easier," he told Sportsbeat.
"At the start of the Tokyo 2020 cycle I wanted to prove I could do it myself, but now it's more about being successful for Idris. He won't remember it, but if I became an Olympic champion while he's alive that'd be pretty cool."
📚 Read Also:  UK First Hijabi Boxing Coach Advocates Equality, Diversity
Tokyo 2020 summer Olympic Games is scheduled to be held from 23 July to 8 August 2021 in Tokyo, Japan, with some preliminary events beginning on 21 July.
Originally scheduled to take place from 24 July to 9 August last year, the event was then pushed forward to March (2020) as a result of the COVID-19 pandemic, and to be held largely behind closed doors with no public spectators permitted under the state of emergency.
Read Original Report Here By About Islam