As the holy month of Ramadan approaches, a Mississauga-based Muslim entrepreneur is bringing the joy of the holy month to the community by creating Ramadan-themed inflatables and decorations.
"When the Christmas holiday season rolls around, we experience so much joy seeing the lights, decorations and positive vibes in the atmosphere," Basharat Rehman told Insauga.com.
"Through our outdoor inflatables and promoting outdoor decor for Muslim holidays, we hope to create a similar feeling of joy that is shareable with the rest of the community."
📚 Read Also: DIY Ramadan Decoration Ideas
Rehman started her business, New Traditions Store, earlier this year. As Ramadan is quickly approaching, the business has been booming.
Inspired by her own kids, she hopes to create an avenue for Muslim children, so they feel more enthusiastic for practicing and celebrating Ramadan and `Eid.
📚 Read Also: 3 Easy Steps to Prepare for Ramadan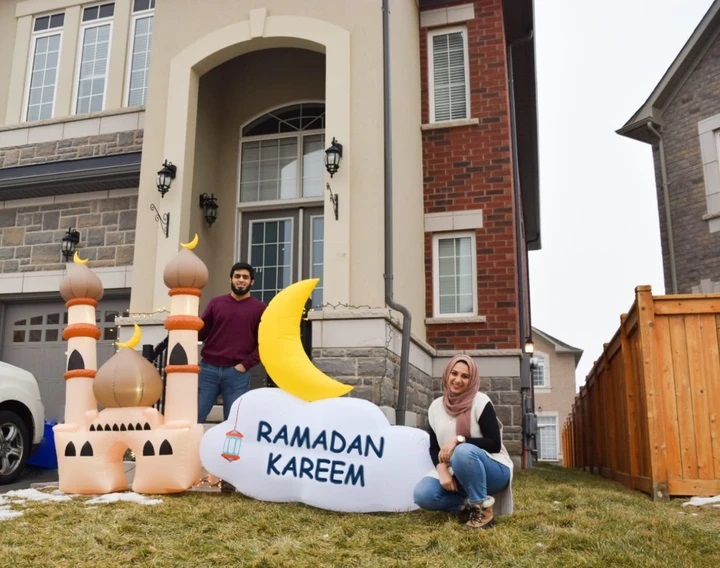 "We received a tremendous amount of positive feedback from families all across North America, thanking us for finally bringing this much-needed idea to the market," she says.
In several Muslim countries, lights are strung up in public squares during Ramadan, and across city streets to add to the festivities of the holy month.
Last year, a Syrian American from New Jersey started a Ramadan decoration business to bring the joy of Ramadan to Muslim homes.
📚 Read Also: New Muslims: How to Prepare for Ramadan?
In 2018, a Muslim mother in Detroit made Ramadan moon-shaped trees through artificial Christmas trees, twisting and bending them into the shape of a crescent moon.
The market for Ramadan decorations has been expanding recently in the US and Canada.
Recently, Etsy shops across New York have popped up selling Ramadan decorations, but so are some major retailers.
Party City, Crate, and Barrel and even Walmart are tapping into this consumer base, selling banners, garlands, lights, and party favors all geared toward their Muslim customers.
📚 Read Also: 5 Ways to Spiritually Prepare for Ramadan
Read Original Report Here By About Islam