Mouhamed Cisse, a 18-year-old high school student with exceptional talents as a cellist and drummer, was tragically shot and killed on a West Philadelphia street following a protest last week.
It was the evening of Sunday, May 31, 2020 and Cisse and a friend were walking to a store when they were struck by random gunfire.
Although there is no proven connection, this horrible crime was committed during the night of escalated Black Lives Matter protests across the city. 
📚 Read Also: Racism is the Real Pandemic
Cisse died shortly after the attack at Penn Presbyterian Medical Center, The Philadelphia Inquirer reported.
"I'm hurt. I can't sleep now. I pray for Mouhamed," Manance Cisse, his mother who came to the US from Ivory Coast in 1999, said in a statement to The Inquirer.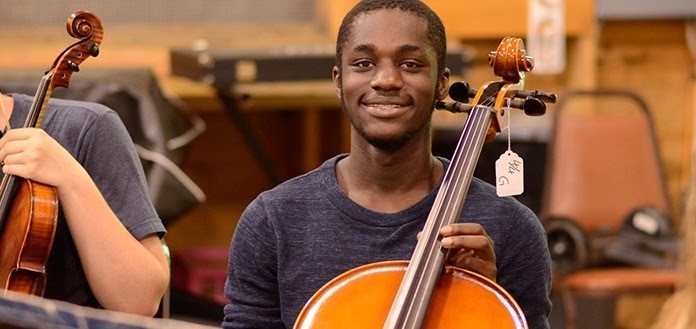 The talented young Muslim was a student of Sergei Nuissl in the Philadelphia School District Instrumental Music Program and the Camp Encore/Coda summer program.
He first learned the cello through a Pennsylvania program called Music and Social Change, run by the University of Pennsylvania's Molly McGlone.
"Mouhamed rose to the top as definitely the most musically talented in the school," McGlone told the Inquirer.
At this time, no arrest has been made. "Homicide detectives are actively investigating this tragedy," Police Staff Inspector Sekou Kinebrew mentioned during a press conference. 
Tribute to Cisse
Messages of support have started pouring in to pay respect to the young Muslim cellist.
Camp Encore/Coda writes: "We are so very sad to say goodbye to Mouhamed Cisse, who was killed Sunday night near his home in Philadelphia. Mouhamed was an important part of our camp family for many years and will be sorely missed by all of us who knew and loved him."
"Our hearts go out to everyone in his family and our camp community in the wake of this terrible news. We will be announcing a memorial event once we have put our plans together."
"Three nights ago, my friend Mouhamed Cisse, who I've been growing up with at summer camp for six years, was shot and killed in his hometown of Philadelphia. Amidst all this chaos and protests, another innocent black man has lost his life," Ceci Cipullo wrote in a heartbreaking post. 
"Mouhamed was 18. While it is not known yet who did it, he is still a victim of gun violence. He was hysterically funny, so kind and talented on the cello.
"I'm asking that you please donate what you can to his memorial fund, and also to other Black Lives Matter causes so senseless killings such as this one will never happen again. The money will go towards his family.
"Anything you can give helps. Stay active in the Black Lives Matter movement. Racist hate in our community affects everyone, not just people of color. Use your voice. As parents, it will do good for your child to see you speaking out in times of injustice. It will teach them to do the same,"
Read Original Report Here By About Islam