Hundreds of youth of the Ahmadiyya Muslim Youth Association are assisting as volunteers in the flood regions. Also representatives from Betzdorf have been active for the past week. In various households rooms were cleared and cleared of mud.
more in the German original article:
Hunderte Jugendliche der muslimischen Ahmadiyya Jugend leisten in den Hochwassergebieten ehrenamtliche Unterstützung. Auch Vertreter aus Betzdorf sind bisher über die letzte Woche im Einsatz gewesen. In diversen Haushalten hat man die Räume ausgeleert und vom Schwamm befreit.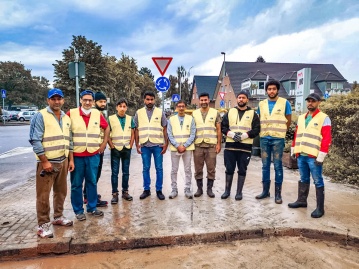 Region. Ahmadiyya Muslim Jamaat Betzdorf spricht öffentlich den Hinterbliebenen der Flut-Opfer ihr tiefstes Mitgefühl aus. Den Worten Taten folgen lassen? Die jungen Vertreter der muslimischen Gemeinde haben es umgekehrt gemacht – offenbar zusammen mit hunderten von weiteren Ehrenamtlichen ihrer religiösen Gemeinschaft.
Der Pressesprecher der Ahmadiyya Muslim Jugend Betzdorf, Athar Iqbal, schreibt in einer Pressemitteilung: "Als Bürger dieses Landes erachten wir es darüber hinaus als unsere bürgerliche wie auch religiöse Pflicht, den Betroffen in dieser schweren Zeit bei Seite zu stehen. Aus diesem Grund mobilisierten wir bundesweit hunderte Mitglieder unserer Jugendorganisation, um bedürftigen Menschen zu helfen."
Zu den ehrenamtlichen Dienstleistungen gehören unter anderem die Zubereitung, Lieferung und Verteilung von Mahlzeiten für bis zu 2000 Personen, ein Fahrtendienst und Spenden. Alleine in Neuwied, Hagen und Iserlohn habe man Speisen für hunderte Menschen zur Verfügung gestellt. Im Nürburgring seien Mannschaften unterwegs und kochten rund um die Uhr für etwa 150 Menschen täglich. Darüber hinaus seien in Kooperation mit der Hilifsorganisation "Humanity First" Camps errichtet, um möglichst rasch Bedürftigen zu helfen. Der Freiwilligendienst der Ahmadiyya Jugend werde in den nächsten Wochen, sobald es die Straßen erlauben, signifikant zunehmen. Es wird mit dem Einsatz von etwa tausend Jugendlichen gerechnet.
Die Jugendlichen der Ahmadiyya Muslim Jamaat Betzdorf sind bisher offenbar über die ganze Woche im Einsatz gewesen. In diversen Haushalten habe man die Räume ausgeleert und vom Schwamm befreit. Die Bürger seien hilflos und starteten einen Hilfe-Aufruf auf sozialen Netzwerken. Die Ahmadiyya Jugend habe darauf reagiert und fahre von Ort zu Ort.
Iqbal erklärt abschließend: "Es sind emotionale Bilder die ich mitnehme, die kaum wiedererkennbaren Straßen, die Häuser und deren Gärten oder die Menschen die vor ihren Häusern sitzen. Aber auch emotionale Bilder wie der Zusammenhalt aller Helfer und Hilfsbedürftigen. Alles sind gleich und harmonieren im Einklang. Ich sehe Menschlichkeit."
source Muslimische Ahmadiyya Jugend Betzdorf hilft in Katastrophengebieten | AK-Kurier.de